01.02.2020 | Ausgabe 2/2020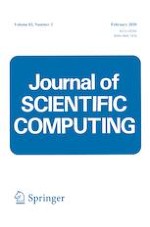 Asymptotic Analysis and Numerical Methods for Oscillatory Infinite Generalized Bessel Transforms with an Irregular Oscillator
Zeitschrift:
Autoren:

Hongchao Kang, Hong Wang
Wichtige Hinweise
This research was supported by Zhejiang Provincial Natural Science Foundation of China under Grant Nos. LY18A010009, LY17A010029, National Natural Science Foundation of China (Grant Nos. 11301125, 11971138, 11571087, 11701133), Research Foundation of Hangzhou Dianzi University (Grant No. KYS075613017).
Publisher's Note
Springer Nature remains neutral with regard to jurisdictional claims in published maps and institutional affiliations.
Abstract
In this work, we perform a complete asymptotic analysis and the construction of affordable quadrature rules for a class of oscillatory infinite Bessel transform with a general oscillator. Especially in the presence of critical points, e.g., endpoints, zeros and stationary points, we first derive a series of useful asymptotic expansions in inverse powers of the frequency parameter
\(\omega \)
. The resulting asymptotic expansions clarify the large
\(\omega \)
behavior of the transform and provide powerful tools for designing quadrature rules and conducting error analysis. As a consequence, efficient and affordable new modified Filon-type methods for computing the transform numerically are proposed. Particularly, we carry out the rigorous error analysis and obtain asymptotic error estimates in inverse powers of
\(\omega \)
. Numerical examples can confirm our analysis. The accuracy can be improved greatly by either adding more derivatives interpolation at endpoints or adding more interior nodes. Moreover, only using a small number of nodes and multiplicities, we can obtain the required accuracy level. For fixed number of nodes and multiplicities, the higher accuracy can be achieved with the larger values of
\(\omega \)
.