2014 | OriginalPaper | Buchkapitel
4. Asymptotic Risk and Bayes Risk of Thresholding and Superefficient Estimates and Optimal Thresholding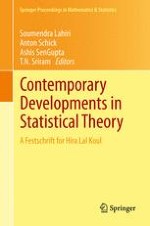 Erstes Kapitel lesen
Autoren: Anirban DasGupta, Iain M. Johnstone
Abstract
The classic superefficient estimate of Hodges for a one dimensional normal mean and the modern hard thresholding estimates introduced in the works of David Donoho and Iain Johnstone exhibit some well known risk phenomena. They provide quantifiable improvement over the MLE near zero, but also suffer from risk inflation suitably away from zero. Classic work of Le Cam and Hájek has precisely pinned down certain deep and fundamental aspects of these risk phenomena.
In this article, we study risks and Bayes risks of general thresholding estimates. In particular, we show that reversal to the risk of the MLE occurs at one standard deviation from zero, but the global peak occurs in a small lower neighborhood of the thresholding parameter. We give first order limits and various higher order asymptotic expansions to quantify these phenomena. Separately, we identify those priors in a class under which the thresholding estimate would be Bayesianly preferred to the MLE and use the theory of regular variation to pin down the rate at which the difference of their Bayes risks goes to zero.
We also formulate and answer an optimal thresholding question, which asks for the thresholding estimate that minimizes the global maximum of the risk subject to a specified gain at zero.