2013 | OriginalPaper | Buchkapitel
16. Atomic Consistency (Linearizability)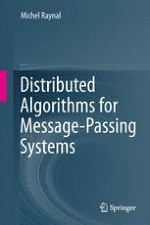 Erstes Kapitel lesen
Autor: Michel Raynal
Verlag: Springer Berlin Heidelberg
Abstract
This chapter is on the strongest consistency condition for concurrent objects. This condition is called
atomicity
when considering shared registers, and
linearizability
when considering more sophisticated types of objects. In the following, these two terms are considered as synonyms.
The chapter first introduces the notion of a distributed shared memory. It then defines formally the atomicity concept, and presents its main
composability
property, and several implementations on top of a message-passing system.