02.01.2019 | Chemical routes to materials | Ausgabe 7/2019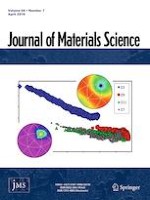 Au/Pd/g-C3N4 nanocomposites for photocatalytic degradation of tetracycline hydrochloride
Zeitschrift:
Autoren:

Ruiyang Zhao, Xiaoxia Sun, Yanrou Jin, Jishu Han, Lei Wang, Fusheng Liu
Wichtige Hinweise
Electronic supplementary material
Abstract
The arbitrary discharge of antibiotic residuals has seriously influenced the ecosystem and human health. Photocatalytic degradation of antibiotic residuals with semiconductor photocatalyst is considered to be more effective method due to its unique superiority. Herein, Au/Pd/g-C3N4 nanocomposites were synthesized by loading Au and Pd nanoparticles on the surface of g-C3N4 sheets for photocatalytic degradation of tetracycline hydrochloride. The modification of g-C3N4 with Au and Pd nanoparticles efficiently enhanced the visible-light absorption, improved the separation and transfer of photogenerated electrons and decreased the recombination of electron–hole pairs. As-prepared Au/Pd/g-C3N4 nanocomposites exhibited improved photocatalytic performance with more than 90% degradation rate. Furthermore, the good stability and reusability of Au/Pd/g-C3N4 nanocomposites would be beneficial to further photocatalytic degradation application.