2015 | OriginalPaper | Buchkapitel
Auction Design with a Revenue Target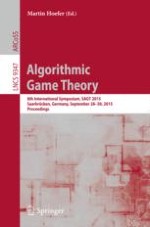 Erstes Kapitel lesen
Autoren: Paul W. Goldberg, Bo Tang
Verlag: Springer Berlin Heidelberg
Abstract
In many fund-raising situations, a revenue target is specified. This suggests that the fund-raiser is interested in maximizing the probability to achieve this revenue target, rather than in maximizing the expected revenue. We study this topic from the perspective of Bayesian mechanism design, in a setting where a seller has a certain good that he can supply at no cost, and there are buyers whose joint valuation for the good comes from some given prior distribution. We present an algorithm to find the optimal truthful auction for two buyers with independent valuations via a direct characterization of the optimal auction. In contrast, we show the problem is NP-hard when the number of buyers is arbitrary or the distributions are correlated. Both negative results can be modified to show NP-hardness of designing auctions for risk-averse sellers.
Our main results address the design of
simple
auctions for many buyers, again in the context of a revenue target. For
Sequential Posted Price Auctions
, we provide a FPTAS to compute the optimal posted prices for a given sequence of buyers. For
Monopoly Price Auctions
, we apply the results of [
8
] on sparse covers of distributions to obtain a PTAS in a setting where the seller has a constraint on discriminatory pricing, consisting of a fixed set of prices he may use.