2017 | OriginalPaper | Buchkapitel
8.
Audi alteram partem

in Criminal Proceedings Under the European Convention on Human Rights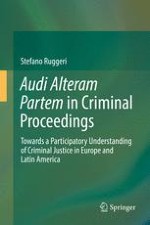 Erstes Kapitel lesen
Autor: Stefano Ruggeri
Abstract
The examination of the developments that have occurred in the domestic law of the selected countries and the persistent deficiencies in both the areas of domestic and transnational criminal justice provide the basis for the subsequent discussion. At this point, the present study should now focus on the models for solutions provided by international human rights law and EU law to solve the deficiencies existing in Brazilian and Italian criminal justice in relation to the issues under examination.