2017 | OriginalPaper | Buchkapitel
12.
Audi alteram partem

in Transnational Cases Under the American Convention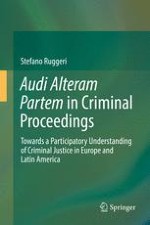 Erstes Kapitel lesen
Autor: Stefano Ruggeri
Abstract
Like the European Convention, the Pact of San José does not contain specific provisions explicitly aimed at the protection of due process rights in transnational criminal cases. Perhaps more than in Europe, the recourse to this international Charter to protect the individuals involved in transborder inquiries constitutes a relatively recent achievement, which has been rarely analysed until now. The fact that the Inter-American case-law has only rarely been called upon to examine issues concerned with due process rights in transborder cases has contributed to this situation. Moreover, a few cases were recently raised before the Inter-American institutions, providing a basis for the examination of this problematic area.