01.04.2014 | Symposium: International Workshop on Materials Design Process: Thermodynamics, Kinetics and Microstructure Control | Ausgabe 4/2014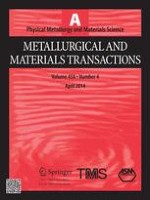 Austenite Formation in a Cold-Rolled Semi-austenitic Stainless Steel
Zeitschrift:
Autoren:

Carola Celada Casero, David San Martín
Wichtige Hinweise
Manuscript submitted June 17, 2013.
Abstract
The progress of the martensite (
α
′) to austenite (
γ
) phase transformation has been thoroughly investigated at different temperatures during the continuous heating of a cold-rolled precipitation hardening metastable stainless steel at a heating rate of 0.1 K/s. Heat-treated samples have been characterized using different experimental complementary techniques: high-resolution dilatometry, magnetization, and thermoelectric power (TEP) measurements, micro-hardness-Vickers testing, optical/scanning electron microscopy, and tensile testing. The two-step transformation behavior observed is thought to be related to the presence of a pronounced chemical banding in the initial microstructure. This banding has been characterized using electron probe microanalysis. Unexpectedly, dilatometry measurements seem unable to locate the end of the transformation accurately, as this technique does not detect the second step of this transformation (last 20 pct of it). It is shown that once the starting (
A
S
) and finishing (
A
F
) transformation temperatures have been estimated by magnetization measurements, the evolution of the volume fractions of austenite and martensite can be evaluated by TEP or micro-hardness measurement quite reliably as compared to magnetization measurements. The mechanical response of the material after being heated to temperatures close to
A
S
,
A
F
, and (
A
F
−
A
S
)/2 is also discussed.