18.06.2020 | Ausgabe 9/2020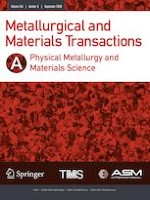 Austenite Grain Growth Behaviors of La-Microalloyed H13 Steel and Its Effect on Mechanical Properties
Zeitschrift:
Autoren:

Wenjian Zhou, Jian Zhu, Zhihao Zhang
Wichtige Hinweise
Manuscript submitted January 2, 2020.
Publisher's Note
Springer Nature remains neutral with regard to jurisdictional claims in published maps and institutional affiliations.
Abstract
Controlling austenite grain size is an effective method to improve mechanical properties of alloy steels. This article shows that La addition can effectively restrain the growth of austenite grains in H13 steel and make the grain size distribution more uniform. When holding at 1050 °C from 10 to 180 minutes, the average austenite grain of La-microalloyed H13 steel increases by 35.7 pct, while that of La-free H13 steel increases by 66.7 pct. With the extension of austenitizing time, the decrease in the strength and the plasticity of tempered La-microalloyed H13 steel is considerably less than those of tempered La-free H13 steel. Austenitized at 1050 °C for 180 minutes, the tensile strength and the elongation to failure of the tempered La-microalloyed steel are 1895 MPa and 9.3 pct, respectively. The addition of La increases the amount of undissolved carbide V8C7 and refines the carbide, and La2O2S particles with high melting point are detected. Because of the combined effect of these fine dispersed second-phase particles, the pinning effect on grain boundary migration increases, and the grain growth is restrained. Some martensitic substructures transform from twin configuration to dislocation configuration because of La addition, and the lath bundles of martensite are refined. As a result, the strength and the toughness of the steel are improved.