01.06.2011 | Ausgabe 3/2011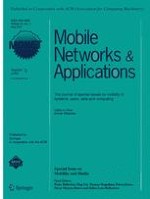 Authentications and Key Management in 3G-WLAN Interworking
Zeitschrift:
Autoren:

Xinghua Li, Xiang Lu, Jianfeng Ma, Zhenfang Zhu, Li Xu, YoungHo Park
Wichtige Hinweise
This work is supported by the National Natural Science Foundation of China (60702059, 60872041, 60972078), the Key Program of National Natural Science Foundation of China (60633020), the Opening Foundation of Key Lab of Cryptglogic Technology and Information Security, Ministry of Education, Shandong University, funds of Key Lab of Fujian Province University Network Security and Cryptology (09A001), the Fundamental Research Funds for the Central Universities, Mobile Network Security Technology Research Center of Kyungpook National University.
Abstract
The successful deployment of WLAN for high speed data transmission and 3G cellular systems for wide coverage and global roaming has emerged to be a complementary platform for wireless data communications. But security in the 3G-WLAN interworking, especially the efficient authentication and valid key management, has been remaining a challenging issue. What's more, some emerging security challenges are neglected by 3GPP specifications as well as the previous studies. This paper first analyzes and evaluates the current contributions in this field, and then puts forward some design issues. Thereafter, by modifying the EAP-AKA keying framework we propose an improved authentication scheme which enables a WLAN user to efficiently access packet switch services through the 3G networks. What's more, through the new keying framework the user can efficiently realize the future re-authentications and handover authentications. The proposed authentication scheme, the corresponding re-authentications and handover authentications are simulated, and results indicate that our scheme can reduce authentication latency significantly.