20.04.2020 | Polymers & biopolymers | Ausgabe 21/2020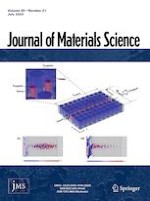 Autocatalyzed interfacial thiol–isocyanate click reactions for microencapsulation of ionic liquids
Zeitschrift:
Autoren:

Chunmei Li, Zhengzhou Su, Jiaojun Tan, Ying Xue, Yumin Yang, Hangyu Yin, Guoxian Zhang, Qiuyu Zhang
Wichtige Hinweise
Electronic supplementary material
Chunmei Li and Zhengzhou Su contributed equally to this work.
Publisher's Note
Springer Nature remains neutral with regard to jurisdictional claims in published maps and institutional affiliations.
Abstract
In recent years, ionic liquids (ILs) have received increasing attention because of low vapor pressure, environment friendliness, good thermal and chemical stability and strong solubility. However, the liquid nature and high viscosity restrict their applications in some fields. Encapsulation of ILs is an attractive way to handle them easily. Herein, we proposed a facile method to prepare IL-loaded microcapsules using IL-in-oil emulsion as template, poly(amide-thioether) as surfactant and interfacial thiol–isocyanate click reaction for shell formation. In this system, core materials ILs were proved to be able to catalyze thiol–isocyanate reaction without side products, which significantly simplified the preparation process of microcapsules. The shell of the microcapsules was composed of polythiourethane and poly(amide-thioether), which provided a strong protection for ILs. In addition, compared with IL-in-water emulsion, the application of IL-in-oil emulsion avoided the side reactions of the highly active isocyanate. The IL content of the resulted microcapsules could reach as high as 70 wt.%. It was also demonstrated that the proposed encapsulation technology was suitable for ILs with different polarities. This work provides an efficient way to encapsulate ILs using emulsion template, which will make ILs find widespread applications across various fields.