2010 | OriginalPaper | Buchkapitel
Automated, High-Throughput, Multi-scale Assessment of Bone Morphology and Bone Competence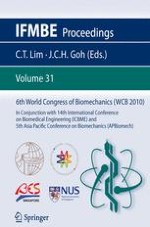 Erstes Kapitel lesen
Autoren: K. Mader, P. Schneider, D. Ruffoni, G. H. van Lenthe, J. -Ph. Thiran, R. Müller, M. Stampanoni
Verlag: Springer Berlin Heidelberg
Osteoporosis, the most prevalent degenerative disease in western societies, is characterized by a reduction in bone mass and altered architectural arrangement of bone tissue; however, how bone morphology on different length scales contributes to overall bone strength and how mechanical stresses are translated into biochemical signals is still poorly understood. This study aims to establish a framework for the automated high-throughput assessment of bone morphology and bone competence on length scales ranging from cellular to organ.
We developed automation tools to enable measurement, quantitative morphological analysis, and finite element (FE) modeling for murine femora that will be used on two inbred strains of mice and their respective crossings (>2000 samples).
Two separate 3D x-ray tomography measurements are made, one at low (
μ
CT) and one at high resolution (Syncrotron Radiation CT). From the low-resolution scans organ-scale characteristics are extracted and from the high-resolution, ultrastructural morphology. The former provides information on macroscopic bone structures and is used for FE modeling. The later provides the canal network and osteocyte lacunae phenotypes. We devised and implemented new morphometric measures to quantify individual shape parameters for these phenotypes, such as orientation, radial distribution, anisotropy, and point density.
To integrate the results, we developed a set of software tools to register the different resolutions to each other and a database infrastructure to enable easy management and analysis of such a large volume of data. This database and web-based interface provides a platform for sharing results greatly simplifying the creation of future studies.
The presented automated high-throughput assessment of bone morphology at different length scales (whole bone and cell level) provides the prerequisites for direct comparisons between the ultrastructure, whole bone geometry, and mechanical bone competence. In future studies, this will allow investigating how individual ultrastructural bone properties relate to the local stress/strain environment computed by FE. We aim to establish a true phenomics approach, by linking back these phenotypes to the different genotypes of the distinct mouse strains to isolate the genetic contribution for these phenotypes, which are relevant for skeletal integrity.
In conclusion, we established a multi-scale framework for quantitative, genetic, high-throughput studies to explore 3D structure-function relationships from cell to organ using computed tomography and computational modeling. The database comprising these results will provide the complete picture of natural differences in healthy bone and provide a starting point for analyzing structurally caused variations in bone strength. At the same time, it will serve as a frame of reference for quantitatively investigating changes that occur in conditions of bone diseases such as osteoporosis.