31.10.2017 | Ausgabe 1/2018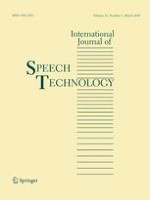 Automated speech signal analysis based on feature extraction and classification of spasmodic dysphonia: a performance comparison of different classifiers
Zeitschrift:
Autoren:

Snekhalatha Umapathy, Shamila Rachel, Rajalakshmi Thulasi
Wichtige Hinweise
Work carried out at: Department of Biomedical Engineering, Faculty of Engineering & Technology, SRM University.
Abstract
Spasmodic Dysphonia is a voice disorder caused due to spasm of involuntary muscles in the voice box. These spasms can leads to breathy, soundless voice breaks, strangled voice by interrupting the opening of the vocal folds. There is no specific test for the diagnosis of spasmodic dysphonia. The cause of occurrence is unknown, there is no cure for the disorder, but treatments can improve the quality of voice. The main aim and objectives of the study are (i) to diagnose the dysphonia and to have comparative analysis on both continuous speech signal and sustained phonation /a/ by extracting the acoustic features. (ii) to extract the acoustic features by means of semi automated method using PRAAT software and automated method using FFT algorithm (ii) to classify the normal and spasmodic dysphonic patients using different classifiers such as Levenberg Marquardt Back propagation algorithm, K-Nearest Neighbor (KNN) and Support Vector Machine (SVM) based on sensitivity and accuracy. Thirty normal and thirty abnormal patients were considered in the proposed study. The performance of three different classifiers was studied and it was observed that SVM and KNN were 100% accurate, whereas Levinberg BPN network produced an accuracy of about 96.7%. The voice sample of dysphonia patients showed variations from the normal speech samples. Automated analysis method was able to detect dysphonia and provides better results compared to semi automated method.