2018 | OriginalPaper | Buchkapitel
Automatic Segmentation and Semantic Annotation of Verbose Queries in Digital Library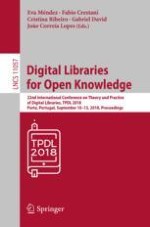 Erstes Kapitel lesen
Autoren: Susmita Sadhu, Plaban Kumar Bhowmick
Abstract
In this paper, we propose a system for automatic segmentation and semantic annotation of verbose queries with predefined metadata fields. The problem of generating optimal segmentation has been modeled as a simulated annealing problem with proposed solution cost function and neighborhood function. The annotation problem has been modeled as a sequence labeling problem and has been implemented with Hidden Markov Model (HMM). Component-wise and holistic evaluation of the system have been performed using gold standard annotation developed over query log collected from National Digital Library (NDLI) (National Digital Library of India:
https://​ndl.​iitkgp.​ac.​in
). In component-wise evaluation, the segmentation module yields 82% F1 and the annotation module performs with 56% accuracy. In holistic evaluation, the F1 of the system has been obtained to be 33%.