01.09.2015 | Ausgabe 5/2015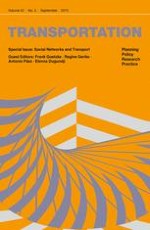 Automobile access, peer effects and happiness
Zeitschrift:
Autoren:

Frank Goetzke, Tilmann Rave
Abstract
While happiness research in transportation is an emerging topic, this is the first study that uses the German SOEP 2003 data to study the role of peer effects in automobile access on self reported subjective well-being following the approach by Ferrer-i-Carbonell (
2005
). Defining peers based on age, education and location, we find that the peer's average automobile availability has a statistically significant impact on quality of life, with stronger effects on persons without a vehicle than persons with vehicle access. Further results are that overall happiness can be locally increased with improving vehicle availability for people, however, that total happiness is maximized globally with a policy leading to nobody having access to an automobile. Finally, these results, which show that not having access to a car does not reduce well-being as long as the peers are in a similar situation, present some supporting evidence for the idea that automobile access can be seen as a "positional" externality and that the pathway for automobile access increasing happiness could be through the increased mobility options rather than through the actual activities made possible by the automobile.