2013 | OriginalPaper | Buchkapitel
4. Autonomic Computing Architectures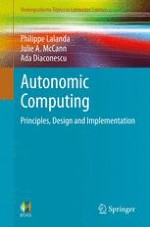 Erstes Kapitel lesen
Autoren: Philippe Lalanda, Julie A. McCann, Ada Diaconescu
Verlag: Springer London
Abstract
Software architecture specifies the structure of the components of a system, their interrelationships, principles and the guidlines governing their design and evolution over time [1]. This is the very purpose of this chapter: defining the main constituents of an autonomic system and understanding their structural and temporal relations.
Such exploration of the internal structure of autonomic systems will allow us to better understand the challenges in building autonomic systems. It will permit us to identify the major design and implementation barriers and their needs in terms of techniques, technologies, formalisms and methods.
This chapter highlights that there are not common agreements as to what an autonomic system is and what its constituent parts are, yet alone what those parts actually do. In some way, this chapter sets up the rest of the book in that the chapters that follow aim to provide answers, partial in some cases where research is still required, to the issues raised by this architectural chapter.