2013 | OriginalPaper | Buchkapitel
9. Autonomic Mediation in Cilia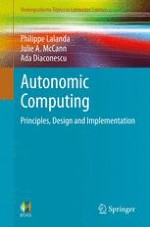 Erstes Kapitel lesen
Autoren: Philippe Lalanda, Julie A. McCann, Ada Diaconescu
Verlag: Springer London
Abstract
Software integration is a well-known and very demanding activity. The purpose of this activity is to allow the interoperation of software applications that have been developed independently and often at different times. Such integrations are frequently required in software organisations in order to improve the existing computing infrastructures and provide new services.
Today, modular architectures are often used to design and implement integration solutions. Many are based on the notion of mediation, which focuses on the timely integration of disparate information sources and destinations. Most current solutions, however, are not autonomic. Updates are generally prepared offline by experienced developers and administrators and committed all at once in a static fashion. This requires some downtime and the availability of skilled administrators to deal with technical, low-level administration aspects.
Cilia is an autonomic mediation framework essentially developed by the Adele team1 and currently used in collaborative initiatives like the Medical project.2 This framework, designed with autonomicity in mind, allows the autonomic admini-stration of mediation solutions. The purpose of this chapter is to show how the Cilia framework has been made autonomic, using many of the techniques presented in this book. This chapter also presents ongoing work offering further management capabilities, aiming to progress towards Cilia technology endowed with fully autonomic life-cycle management capabilities.