2021 | OriginalPaper | Buchkapitel
Autonomous Vehicles: Present Technological Traits and Scope for Future Innovation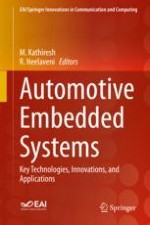 Erstes Kapitel lesen
Autoren: Arun S. Tigadi, Nishita Changappa, Shivansh Singhal, Shrirang Kulkarni
Abstract
Earth can soon witness cars that will drive themselves without any drivers, i.e., independently. In near future, the car driving will be controlled by the autonomous driving systems technology, which will adjust the speed of the vehicle and run miles together without any glitches on all types of roads.
The advancement in technology is accelerating the growth of autonomous driving. Autonomous vehicles (AVs) are the latest trend that the car industry is moving toward, as AVs will help in replacing humans as drivers who are prone to making mistakes and errors while driving the vehicle. Thus having AVs on roads will reduce the number of accidents caused due to the human error and hence serve as a means to improve road traffic safety. However, AVs face innate safety and security challenges that must be addressed before they are deployed for use.
The complex hardware design required to accommodate autonomous systems is shrinking, whereas we can see a sudden increase in the processing speeds. Advanced driver assistance systems (ADAS) are readily used in buses that have amazing features such as pedestrian detection system, adaptive cruise control, collision avoidance, correction of lane, and automated parking facility that can be used in the design of AVs as well.Every novel feature that you want to integrate into the AVs such as smartphone integration, entry without keys, and detection of blind spots in the next-generation vehicles brings new vulnerabilities and challenges to the electronic control unit (ECU).
Even with all the research going on, to make driverless cars a success, the autonomous industry is facing its own set of challenges with respect to the technical implementation of driverless cars such as decision-making, actuation, sensor management, object detection efficiency, safety and reliability, quality of software, computational resources, security and hacking, and privacy, being the essential ones. There is still a long way to go for the industry till it actually reaches its ultimate destination. So this chapter dives into the current state of autonomous driving, the various stages, and the key technological challenges that the vehicle manufacturers must address to get in the game.