01.07.2019 | Electronic materials | Ausgabe 19/2019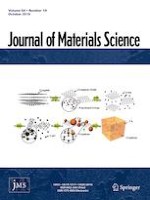 BaAs3: a narrow gap 2D semiconductor with vacancy-induced semiconductor–metal transition from first principles
Zeitschrift:
Autoren:

Ping Tang, Jun-Hui Yuan, Ya-Qian Song, Ming Xu, Kan-Hao Xue, Xiang-Shui Miao
Wichtige Hinweise
Electronic supplementary material
The authors Ping Tang and Jun-Hui Yuan have contributed equally to this work.
Publisher's Note
Springer Nature remains neutral with regard to jurisdictional claims in published maps and institutional affiliations.
Abstract
Searching for novel two-dimensional (2D) materials is highly desired in the field of nanoelectronics. We here predict a new 2D crystal barium triarsenide (BaAs3) with a series of encouraging functionalities within density functional theory. Being kinetically and thermally stable, the monolayer and bilayer forms of BaAs3 possess narrow indirect band gaps of 0.74 eV and 0.34 eV, respectively, with high hole mobilities on the order of ~ 103 cm2 V−1 s−1. The electronic properties of 2D BaAs3 can be manipulated by controlling the layer thickness. The favorable cleavage energy reveals that layered BaAs3 can be produced as a freestanding 2D material. Furthermore, by introducing vacancy defects monolayer BaAs3 can be transformed from a semiconductor to a metal. Two-dimensional BaAs3 may find promising applications in nanoelectronic devices, such as memristors.