01.09.2018 | PHYSICS OF SEMICONDUCTOR DEVICES | Ausgabe 9/2018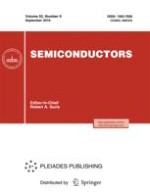 Backward-Diode Heterostructure Based on a Zinc-Oxide Nanoarray Formed by Pulsed Electrodeposition and a Cooper-Iodide Film Grown by the SILAR Method
Zeitschrift:
Autoren:

N. P. Klochko, V. R. Kopach, G. S. Khrypunov, V. E. Korsun, V. M. Lyubov, D. O. Zhadan, A. N. Otchenashko, M. V. Kirichenko, M. G. Khrypunov
Wichtige Hinweise
Translated by E. Bondareva
Abstract
A heterostructure promising for designing a backward diode is formed from a zinc-oxide nanorod array and a nanostructured copper-iodide film. The effect of modes of successive ionic layer adsorption and reaction (SILAR) deposition and the subsequent iodization of CuI films on smooth glass, mica, and fluorine-doped tin oxide (FTO) substrates and on the surface of electrodeposited nanostructured zinc-oxide arrays on the film structure and electrical and optical properties is investigated. A connection between the observed variations in the structure and properties of this material and intrinsic and iodination-induced point defects is established. It is found that the cause and condition for creating a backward-diode heterostructure based on a zinc-oxide nanoarray formed by pulsed electrodeposition and a copper-iodide film grown by the SILAR method is the formation of a
p
+
-CuI degenerate semiconductor by the excessive iodination of layers of this nanostructured material through its developed surface. The
n
-ZnO/
p
+
-CuI barrier heterostructure, which is fabricated for the first time, has the
I
–
V
characteristic of a backward diode, the curvature factor of which (γ = 12 V
–1
) confirms its high
Q
factor.