01.09.2014 | Ausgabe 17/2014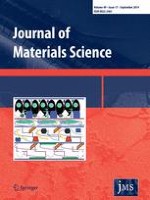 Bacterial cellulose whisker as a reinforcing filler for carboxylated acrylonitrile-butadiene rubber
Zeitschrift:
Autoren:

Jingyi Wang, Hongbing Jia, Jiajia Zhang, Lingfeng Ding, Yang Huang, Dongping Sun, Xuedong Gong
Abstract
Bacterial cellulose whisker (BCW) reinforced carboxylated acrylonitrile-butadiene rubber (xNBR) vulcanizates were fabricated by mixing BCW suspension with xNBR latex, followed by coagulating and vulcanization. The BCW, prepared from acid hydrolysis of bacterial cellulose, has as rod-like nanofiber structure according to transmission electron microscopy. BCW maintained its crystal structure in BCW/xNBR vulcanizates as confirmed by X-ray diffraction. The incorporation of BCW improved the curing rate of xNBR. Compared with unfilled xNBR, the tensile strength, Young's modulus, and tear strength of BCW/xNBR vulcanizates were increased considerably: by 320, 150, and 150 %, respectively.The storage modulus (
E
′) and glass transition temperature (
T
g
) also increased because of the addition of BCW.