2017 | OriginalPaper | Buchkapitel
2. Bacterial Infections: Few Concepts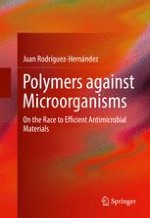 Erstes Kapitel lesen
Autor: Juan Rodríguez-Hernández
Abstract
A principal challenge defying current medicine in the twenty-first century is the large occurrence of antibiotic resistance, as well as, the risk posed by drug-resistant superbugs. In spite of this, progresses on the development of novel antibiotics to combat this problem are quite limited. It appears necessary to carry out a more concerted effort to advance in the discovery of novel therapeutic agents with excellent activity and unique mechanisms of action to overcome the problem of drug resistance. In this context, macromolecular antimicrobials with a different interaction with bacteria may offer an interesting alternative to current strategies in order to successfully prevent resistance. Furthermore, biofilm-forming bacteria are recognized to be gradually resistant to the action of antibiotics and are a leading cause of mortality or morbidity in nosocomial infections.
This chapter will, thus, describe the bacterial structure and summarize the mechanisms involved in the interaction between antibiotics and bacteria as well as the resistance mechanisms developed. In addition, the proposed models of interaction between macromolecular antimicrobials and bacteria will be analyzed.
The second part of this chapter is devoted to implant-associated infections produced by the formation of a biofilms at the surface of biomaterials. More precisely, the steps involved in biofilm formation and its particular properties that reduce the antimicrobial activity will be discussed. Finally, preliminary concepts on the use of polymers to overcome this limitation are depicted.