2017 | OriginalPaper | Buchkapitel
Balancing of Fluctuating Power to Obtain 100 % Supply with Renewable Energy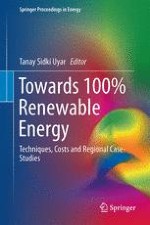 Erstes Kapitel lesen
Autor: Preben Maegaard
Abstract
A comprehensive future conversion to renewable energy requires mobilization of all forms of renewable energy installations, including both large and small plants. The technological building blocks for the transition to a sustainable energy future already exist in the form of decentralized cogeneration plants, wind turbines, large and small biogas plants, solar energy and various types of biomass for energy purposes. In areas with high shares of wind or solar availability, these energies will more and more be seen as a base load that covers the supply of power by 100 % and often more.
Wind turbines in such regions may periodically be shut down when they produce too much power. Similarly, when combined heat, cooling and power (CHCP) production coincides with excess wind energy, an excess power capacity may occur. These problems will become increasingly frequent as more wind turbines feed power into the grid and more CHP systems are utilized. Electric boilers have proved to be a low-cost solution to capture excess energy, by using excess wind power in fuel-efficient combined heat and power systems.
Because biomass functions as an ideal long-term storage solution, and due to its limited availability, it is necessary that it be reserved for combustion in combined heat and power stations with efficiencies of 85 % or more. Their primary function is for balancing by upregulation when solar and wind energy cannot cover the demand loads.
Besides an electricity grid, the future energy structure with extensive pipe networks for district heating and cooling will have ancillary functions. Due to their low efficiencies of 45 % or less, conventional condensation power stations will not have an important role to play.
Some regions and even countries already have relatively high shares of fluctuating power supply. In 2015, Denmark saw 42 % of its demand for electricity from wind turbines, which by 2020 will grow to approximately 50 %. During periods of low peak power demand and high wind speeds, wind power can currently fully cover the consumption of electricity; at the local level, the share of wind power may even be 400 % of actual consumption.
Interregional compensation with strong connections to neighbouring countries still plays an important role for upregulation and downregulation; it may be a short-term solution, however, as the present importers of excess power most likely in the future will be less interested in buying power as the deployment of fluctuating forms of renewable energy will only increase in neighbouring countries as well. The reality is that outlets for periodical overcapacities will be required locally.