01.06.2015 | Original Paper | Ausgabe 2/2015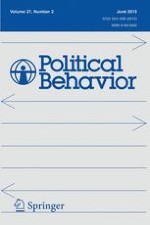 Ballot Position Effects Under Compulsory and Optional Preferential-List PR Electoral Systems
Zeitschrift:
Autoren:

Kamil Marcinkiewicz, Mary Stegmaier
Wichtige Hinweise
Earlier versions of this paper were presented at the 2013 Northeastern Political Science Association conference, the 2014 Southern Political Science Association conference and the 2014 Midwest Political Science Association conference.
Abstract
How do voters in preferential-list proportional representation (PLPR) systems make their candidate choices after selecting their party? We study this question in Poland and the Czech Republic, which use PLPR with different rules to elect the lower house of their national parliaments. In Poland, the system obligates voters to select one candidate from their preferred party, while in the Czech Republic voters have the option of casting up to four preference votes for candidates on the party list. Drawing on the ballot cues literature, we test for ballot position and rank effects in candidate preference vote shares. Further, we exploit the difference in voting rules to test whether ballot position effects are stronger in Poland where voters must cast a preference vote compared to the Czech Republic where preference voting is optional. We find that while being listed first or last has a disproportionately positive effect on preference vote shares compared to what would be expected based on ballot ranking in both countries, the ballot position and rank effects are much more powerful in Poland than the Czech Republic.