2017 | OriginalPaper | Buchkapitel
2. Bandwidth-Efficient Modulation with Frequency Division Multiple Access (FDMA)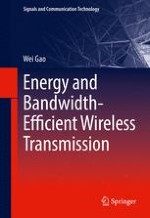 Erstes Kapitel lesen
Autor: Wei Gao
Abstract
In a wide variety of communication systems, modulation as a fundamental technique plays a very important role in data transmission through air within a specified spectral bandwidth. A modulation signal, which is usually represented by a low-frequency baseband signal and is commonly referred to as an information-bearing signal, varies or modulates one of three parameters:
amplitude
,
phase
, and
frequency
of the radiofrequency (RF) carrier signal such that the baseband signal is carried by a varied parameter of the carrier signal through atmosphere propagation to the destination. Why does the information-bearing signal need to modulate a high-frequency carrier signal for this transmission? This is necessary because the size of the antenna used to radiate the signal to free space depends on the wavelength
λ
of the transmitted signal. The wavelength
λ
is equal to
c
/
f
, where
c
is the speed of light and equals 3 × 10
8
m/s, and
f
is the frequency of the transmitted signal. For cellular communication systems, antennas are typically
λ
/4 in size [1]. If a baseband signal with a frequency of 15 kHz were to be transmitted through an antenna without modulating a carrier signal, the size of the antenna would be
λ
/4 = 5,000 m. However, it is only 8 cm if a carrier signal with a frequency of 900 MHz is modulated by such a baseband signal. For this reason, a high-frequency signal usually called a carrier signal is needed for all wireless communication systems to carry the modulation baseband signal. Thus, modulation is a necessary process in all wireless communication systems. Through this book, we mainly consider either the phase modulation scheme or a combination of an amplitude and phase modulation scheme such as
M-
QAM for its simple implementation and robust performance. In the phase modulation scheme, the information-bearing baseband signal is used to change the phase of a sinusoidal carrier signal whenever the polarity of the baseband signals changes. The phase change of the carrier signal, indicating either 1 or 0, is carried by the carrier signal.