01.08.2014 | Ausgabe 1/2014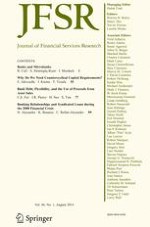 Banks and Microbanks
Zeitschrift:
Autoren:

Robert Cull, Asli Demirgüç-Kunt, Jonathan Morduch
Wichtige Hinweise
The views are those of the authors and not necessarily those of the World Bank or its affiliate institutions. Morduch is grateful for funding from the Bill and Melinda Gates Foundation through the Financial Access Initiative. The Mix Market provided data through an agreement with the World Bank Development Economics Research Group. Confidentiality of institution-level data has been maintained. We thank Isabelle Barres, Joao Fonseca, and Peter Wall of the Microfinance Information Exchange (MIX) for their substantial efforts in assembling both the adjusted data and the qualitative information on microfinance institutions for us. Ippei Nishida, Mircea Trandafir and Yeon Soo Kim provided expert data analysis, and Varun Kshirsagar provided additional assistance. All views and any errors are ours only.
Abstract
We combine two datasets to examine whether the presence of banks affects the profitability and outreach of microfinance institutions. We find evidence that competition matters. Greater bank penetration in the overall economy is associated with microbanks pushing toward poorer markets, as reflected in smaller average loans sizes and greater outreach to women. The evidence is particularly strong for microbanks relying on commercial-funding and using traditional bilateral lending contracts (rather than group lending methods favored by microfinance NGOs). We consider plausible alternative explanations for the correlations, including relationships that run through the nature of the regulatory environment and the structure of the banking environment, but we fail to find strong support for these alternative hypotheses.