2019 | OriginalPaper | Buchkapitel
Bare Nouns and the Hungarian Mass/Count Distinction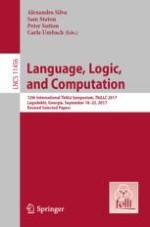 Erstes Kapitel lesen
Autoren: Kurt Erbach, Peter R. Sutton, Hana Filip
Verlag: Springer Berlin Heidelberg
Abstract
We argue that in Hungarian notionally count, singular nouns like
könyv
('book'),
toll
('pen'), and
ház
('house') are semantically number-neutral (see also Farkas and de Swart (
2010
)). This departs from the view that such nouns are dual-life with respect to being count or mass, such as
brick
or
stone
in English, as recently argued by Rothstein (
2017
) and Schvarcz and Rothstein (
2017
), who rely on two assumptions: that pseudo-partitive (measure) NPs require mass predicates denoting measured entities (Rothstein
2011
); and that classifiers modify mass nouns (Chierchia
1998
,
2010
). We provide evidence against these two assumptions and argue that, together with (i) the commonly accepted analysis of measure DPs on which they require
cumulative
predicates to denote what is measured (i.a, Krifka
1989
; Filip
1992
,
2005
; Nakanishi
2003
; Schwarzschild
2006
; and (ii) for an analysis of classifiers (Krifka
1995
; Sudo
2017
) in which they combine with numerical expressions rather than nouns, a number neutral analysis of Hungarian notionally count, singular nouns covers a wider range of data than a dual-life analysis does. We build on the use of context to specify what counts as one (Landman
2011
; Rothstein
2010
; Sutton and Filip
2016
) and the analyses of counting and measuring in Filip and Sutton (
2017
) yielding a novel analysis in which Hungarian has many count nouns and many mass nouns, rather than many dual-life and mass nouns, but few count nouns.