2011 | OriginalPaper | Buchkapitel
4. Basic Concepts of Reliability Theory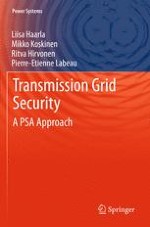 Erstes Kapitel lesen
Autor: Liisa Haarla
Verlag: Springer London
Abstract
Elements of reliability theory and of the methodology of probabilistic safety analysis (PSA), necessary to understand their implementation to perform the probabilistic security assessment of the transmission grid, are reviewed in this chapter.
The approach chosen is top-down. Starting from the definition of risk, PSA is presented as the tool estimating the residual risk in a system, once protection systems are devised. In order to do so, event trees are introduced to represent those scenarios developing either to safe or undesired final states, after the occurrence of an initiating event. Fault trees are then shown to connect the occurrence of the branch events in the event trees to the logical combinations of basic component failures.
At a second stage, a bottom-up presentation of the quantification process is provided. Component reliability is first summarised to characterise basic events in some elementary cases. The calculation of the probability of the fault tree top events is explained, based on the prior identification of the minimal cut sets of the system.
Finally, some comments are provided on the limitations of this classical PSA approach and on the impact of grid dynamics on the development of accident scenarios.