2006 | OriginalPaper | Buchkapitel
1. Basic Statistical Concepts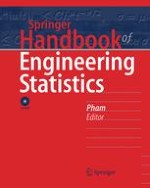 Autor: Hoang Pham
Verlag: Springer London
Abstract
This brief chapter presents some fundamental elements of engineering probability and statistics with which some readers are probably already familiar, but others may not be. Statistics is the study of how best one can describe and analyze the data and then draw conclusions or inferences based on the data available. The first section of this chapter begins with some basic definitions, including probability axioms, basic statistics and reliability measures.
The second section describes the most common distribution functions such as the binomial, Poisson, geometric, exponential, normal, log normal, Student's
t
, gamma, Pareto, Beta, Rayleigh, Cauchy, Weibull and Vtub-shaped hazard rate distributions, their applications and their use in engineering and applied statistics.
The third section describes statistical inference, including parameter estimation and confidence intervals. Statistical inference is the process by which information from sample data is used to draw conclusions about the population from which the sample was selected that hopefully represents the whole population. This discussion also introduces the maximum likelihood estimation (MLE) method, the method of moments, MLE with censored data, the statistical change-point estimation method, nonparametic tolerance limits, sequential sampling and Bayesian methods.
The fourth section briefly discusses stochastic processes, including Markov processes, Poisson processes, renewal processes, quasi-renewal processes, and nonhomogeneous Poisson processes.
Finally, the last section provides a short list of books for readers who are interested in advanced engineering and applied statistics.