03.02.2020 | Ausgabe 3/2020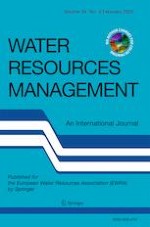 Basin Initial Water Rights Allocation under Multiple Uncertainties: a Trade-off Analysis
Zeitschrift:
Autoren:

Lina Zhang, Xiaoling Zhang, Fengping Wu, Qinghua Pang
Wichtige Hinweise
Highlights
• An ITSP-CG model to better account for multiple uncertainties is developed.
• The industry preference coefficient for promoting water structure is introduced.
• Managers need to tradeoff between allocation optimization and economic return.
• Allocation schemes reflected as intervals were given for Basin Authority to choose.
Publisher's Note
Springer Nature remains neutral with regard to jurisdictional claims in published maps and institutional affiliations.
Abstract
Economic losses and inequities caused by uncertainties in the availability of water intensify the competition between water sectors, making the allocation of water rights of vital importance for minimizing water conflicts. In this study, an Interval-parameter Two-stage Stochastic Programming (ITSP) model for water rights allocation is developed that contains an industrial allocation preference coefficient and involves the risk control of Conditional Value-at-Risk theory and Gini coefficient constraints (ITSP-CG). Using China's Taihu Basin as a case study, it is shown that optimized water rights allocation schemes can reduce the risk of inequitable localized water deficits, a narrower confidence interval results in higher economic loss, and, when the confidence level is fixed, tighter control of water availability results in water efficient sectors having an increasing preference for allocation schemes. It is also shown that Basin Authorities need to trade-off the equitable allocation of water rights and economic returns over a particular planning period.