1999 | OriginalPaper | Buchkapitel
Basin-Scale Groundwater Flow and Advective Heat Flow: An Example from the Northern Great Plains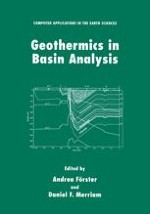 Erstes Kapitel lesen
Autor: William D. Gosnold Jr.
Verlag: Springer US
Enthalten in: Professional Book Archive
Gravity-driven groundwater flow in a confined aquifer system that extends several hundred kilometers eastward from the Black Hills causes anomalous surface heat-flow over an 80,000 km2 area in southern South Dakota and northern Nebraska. Data from 16 new heat- flow holes, existing heat-flow data, and heat-flow values calculated from BHT data show a systematic variation in heat-flow from 20 mW m−2 in the recharge zone to 140 mW m−2 in the discharge zone. Ninety-four conventional heat-flow values and 62 heat-flow values calculated from BHT data yield an average heat-flow of 58 ± 9 mW m−2 for the northern Great Plains exclusive of the anomalous area. The advective heat-flow system is unusual in that temperature gradients in boreholes ranging from 2000 meters deep near the Black Hills to 500 meters deep in central South Dakota show only conductive heat-flow. In effect, the advective system is masked by 500 to 2000 meters of low permeability marine shales that overlie a 600- meter thick confined aquifer system. Numerical models of coupled groundwater heat-flow in the aquifer system suggest that confined water flow at Darcy velocities of 3.17 × 10−8m s−1 to 6.34 × 10−8m s−1 (1 to 2 m y−1)) causes the anomalous heat-flow.