01.08.2010 | Original Paper | Ausgabe 4/2010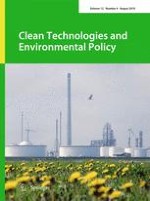 Batch biodegradation of PAHs in mixture by
Mycobacterium frederiksbergense

: analysis of main and interaction effects
Zeitschrift:
Autoren:

Biswanath Mahanty, Kannan Pakshirajan, Veeranki Venkata Dasu
Abstract
Biodegradation is an effective technique to remediate soil and water contaminated with polycyclic aromatic hydrocarbons (PAHs). In the present experimental study,
Mycobacterium frederiksbergense,
a fast growing mycobacterium, was used to degrade anthracene, naphthalene and pyrene in mixture each at initial concentrations varying between 1 and 50 mg l
−1
. Experiments were conducted according to the 2
3
factorial design at the low (1 mg l
−1
) and high (50 mg l
−1
) levels of the PAHs in combination, to identify the main and interaction effects of the compounds on their biodegradation. The results showed that the PAH removals varied 54–81% when each PAHs were at low concentrations in the mixture and 67–89% at their higher concentration combinations. Statistical analysis of the results in the form of ANOVA and Student
t
test indicated significant role played by the main effects of pyrene on its degradation. Similarly on anthracene degradation, interaction effect with pyrene was found to be highly significant with
P
value less than 0.1.