01.06.2015 | Ausgabe 3/2015 Open Access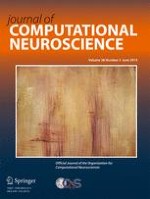 Bayes optimal template matching for spike sorting – combining fisher discriminant analysis with optimal filtering
Zeitschrift:
Autoren:

Felix Franke, Rodrigo Quian Quiroga, Andreas Hierlemann, Klaus Obermayer
Wichtige Hinweise
Action Editor: Lance M. Optican
1

Introduction

One way to build such a classifier is to calculate the average of all elements for each cluster. This cluster center is called the template. Each unclassified spike is then compared to each template and is subsequently assigned to the template that was most similar to it according to some appropriate similarity measure. This procedure is often referred to as template matching.

Here, we show that template matching can be seen as a filtering operation and propose a finite impulse response (FIR) filter based online template matching procedure that is - under the additional assumption of Gaussian noise - optimal in a Bayesian sense. We derive its optimality (to discriminate spikes from different neurons and to detect the spikes in noisy recordings) from Fisher's linear discriminant analysis (LDA) and show that this way the outputs of matched filters can be interpreted in a Bayesian sense. The proposed Bayes optimal template matching (BOTM) computes the linear discriminant functions by a convolution of FIR filters with extracellular data and solves both the detection and the classification problem. In contrast to the other methods, BOTM provides an optimal detection threshold analytically and does not require manual intervention. Using BOTM to simultaneously detect and classify spikes removes the need for spike alignment since the peak of the detector output is a robust estimate of the true position of the spike.

We evaluate our method on two previously published benchmark data sets and show that we can significantly improve template matching performance in both cases. Additionally, using BOTM as a post-processing step after clustering can reduce the number of errors which occurred during the initial spike sorting step.
4

Discussion

We analyzed the performance of different template matching procedures. We showed that distance based template matching is not suitable to detect spikes while the performance of convolution-based template matching for classifying spikes may be low depending on the templates in the data. For the case of colored Gaussian noise we use a Bayesian approach to derive an optimal template matching. The proposed BOTM algorithm we show to outperform the other methods on a number of benchmark data sets. The probabilistic framework provides a robust way to resolve overlapping spikes, even in the presence of a relatively large number of templates (see Fig.

4

where 10 templates are present). Since the BOTM procedure is fast and computationally simple it is also suitable for hardware implementation and potential real-time applications. BOTM can in principle be applied to all detection and classification problems which include linear separation of multiple transient signals. Furthermore, there is no need to align the spike waveforms before classification, a step that is usually error-prone.

The probabilistic approach and the solution derived here is related to earlier work (Pillow et al.

2013

) but exhibits some important differences. Our approach shows the connection between LDA and matched filtering, and can be implemented by linear filters. This can be an important advantage for hardware implementations and closed-loop experiments, since our method is online-capable. This allows for applying adaptive template matching strategies, where the templates and filters are gradually adapted over time depending on the previously found spikes. We did not attempt using an adaptive strategy in this study (see

discussion

below). The method presented in (Pillow et al.

2013

) solves a global optimization problem, while we solve the overlap problem locally in time. Our approach could entail a slight increase in sorting errors in those cases where future spike classifications are important to make the correct decision (resolving an overlapping spike from the future backwards rather than from the past onwards), but it offers the advantage of having an online algorithm and faster classification. Furthermore, the locality reduces the dimensionality of the noise covariance matrix in the range of the template length, not the length of the recordings, which makes it feasible for us to estimate the noise covariance matrix on short periods of noise. The weights of the pros and cons of the methods largely depend, however, on the experimental context.
4.1

Non-stationary templates

Spike waveforms from neurons are known to vary on two different time scales: In the range of milliseconds (Fee et al.

1996

), depending on the time between to spikes of the same neuron, and on a larger time scale owing to a movement of the neurons with respect to the electrodes (Franke et al.

2010

). Both sources of variability, but prevailingly the movement-induced variability, can be addressed by using adaptive filters. The benchmarks used in this study are, due to a lack of strong waveform variability, however, not well suited to test an adaptive approach, so that further work will be necessary to investigate the potential of adaptive strategies.
4.2

Noise covariance matrix and gaussian noise assumption

BOTM assumes noise to be multivariate colored Gaussian. This was found to be a good description of real noise (Pouzat et al.

2002

), but, other studies claim that the distributions of spike waveforms are better explained by t-distributions (Shoham et al.

2003

). Neither of the data sets used in this study were constructed to follow this assumption. In fact, the noise in the benchmark data set from (Quiroga et al.

2004

) was created by copying many templates with small amplitudes into the data, but it should be also noted that this dataset did not include multiunit activity, which is one of the main factors introducing deviations from Gaussian distributions. The data set from (Henze et al.

2000

) are real recordings where noise is likely to contain small amplitude spikes from neurons that are further away from the electrodes but our analysis showed that the Gaussian assumption might be well justified. For both data sets using the colored Gaussian noise assumption significantly increased spike detection and classification performance. This is consistent with the observation that although in many classification problems the assumption of normality and of a common covariance matrix among clusters is often violated, linear classifiers assuming colored Gaussian noise still perform surprisingly well (Duda et al.

2001

; Li et al.

2006

).

Should the main variability of clusters be caused by the neurons,

e.g.,

while bursting, and not by noise, the decision boundaries derived

via

the noise covariance matrix (and not the cluster covariance matrix) might be suboptimal. This could be remedied by using multiple templates per neuron, an approach especially promising for bursting neurons which can produce several distinct, sometimes even non-overlapping clusters.

A question that remains open is in how far the noise statistics (and thus the noise covariance matrix) are stable during an experiment and how well they can be estimated,

e.g.

, for artifacts and ripples (Fig.

1

). This will depend strongly on the recording conditions and might vary from setup to setup. However, similar problems were already faced in radar applications (Melvin

2004

) and it might be beneficial to determine if those solutions are applicable also to the analysis of extracellular recordings.
4.3

Resolution of overlapping spikes

Several approaches were recently developed to resolve overlapping spikes (Atiya

1992

; Ekanadham et al.

2014

; Franke et al.

2010

; Lewicki

1994

; Marre et al.

2012

; Pillow et al.

2013

; Prentice et al.

2011

; Segev et al.

2004

; Vargas-Irwin and Donoghue

2007

; Wang et al.

2006

; Zhang et al.

2004

). Most of them are based either on a greedy iterative subtraction scheme to remove spikes and detect overlaps (

e.g.

, (Marre et al.

2012

; Segev et al.

2004

)) or on searching the best fit in the space of all possible overlaps (

e.g.

, (Pillow et al.

2013

; Prentice et al.

2011

)). Ekanadham and co-authors (

2014

) suggest to resolve overlapping spikes while performing clustering. The method we propose here is similar to several of the abovementioned approaches: the brute-force (Option 1 in Fig.

2

) and the iterative subtraction scheme (Option 2, SIC). In contrast to the other methods, however, BOTM performs the overlap resolution using the filter outputs of the matched filters instead of the original recorded data. This increases the discriminability of spike waveforms from different neurons and reduces the influence of noise. Although our method is computationally less expensive it still yields comparable results to (Ekanadham et al.

2014

) on Benchmark 3.
Acknowledgments
We thank Robin Ince, Robert Pröpper, Philipp Meier and Christophe Pouzat for helpful discussions and Wendelin Böhmer and Espen Hagen for feedback on a draft of this paper. This work was supported by DFG GRK 1589/1, the German Federal Ministry of Education and Research (BMBF) with the grants 01GQ0743 and 01GQ0410, by the European Community through the ERC Advanced Grant 267351, "NeuroCMOS", and by the Engineering and Physical Sciences Research Council (EPSRC).
Conflict of interest
The authors declare that they have no conflict of interest
Open Access
This article is distributed under the terms of the Creative Commons Attribution License which permits any use, distribution, and reproduction in any medium, provided the original author(s) and the source are credited.
Footnotes
1
Note that this overestimates the performance of the other methods, since in a real situation their optimal threshold is not known.