30.11.2014 | Ausgabe 3/2017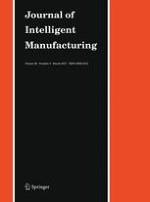 Bayesian equilibria for uncertain bimatrix game with asymmetric information
Zeitschrift:
Autoren:

Xiangfeng Yang, Jinwu Gao
Abstract
In an uncertain bimatrix game, there are two solution concepts of
\((\alpha ,\beta )\)
-optimistic equilibrium strategy and
\((u,v)\)
-maximum chance equilibrium strategy. This paper goes further by assuming that the confidence levels
\(\alpha , \beta \)
and payoff levels
\(u, v\)
are private information. Then, the so-called uncertain bimatrix game with asymmetric information is investigated. Two solution concepts of Bayesian optimistic equilibrium strategy and Bayesian maximum chance equilibrium strategy as well as their existence theorems are presented. Moreover, sufficient and necessary conditions are given for finding the Bayesian equilibrium strategies. Finally, a two-firm advertising problem is analyzed for illustrating our modelling idea.