13.02.2017 | Original paper | Ausgabe 4/2017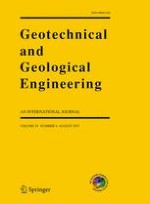 Bearing Capacity of the New Composite Foundation with Discrete Material-Concrete Compound Piles
Zeitschrift:
Autoren:

Youlin Guo, Minghua Zhao, Guihai Fu, Yongsuo Li, Pengfei Yu
Abstract
In order to solve the bulging deformation and fracture at the top of widely used gravel piles in treating ground consolidation, a new, optimized composite foundation form was proposed. The composite foundation was constructed using discrete materials and concrete piles. Additionally, various parameters of this new composite foundation were analyzed, including foundation forms, construction technologies, bearing mechanism and failure mode. By applying cavity expansion theory, the Vesic cavity spreading pressure of the discrete material-concrete pile is solved as a polar axis symmetric problem on the basis of Mohr–Coulomb yield criterion. Then the computing formula for the ultimate bearing capacity of the discrete materials-concrete pile is elicited when the internal friction angle of soil in the piles is
φ
= 0 and
φ
≠ 0. Finally, the ultimate bearing capacity value of the composite foundation is acquired through analytic calculation and numerical simulation. Finally, it is found that the calculation result is 14.4% lower than that of the simulated result, which is within the acceptable accuracy range and therefore proves the accuracy of the analytic calculation method for bearing capacity of the new composite foundation.