2017 | OriginalPaper | Buchkapitel
B
eat

L

ex

: Summarizing and Forecasting Time Series with Patterns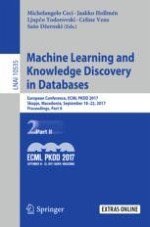 Autoren: Bryan Hooi, Shenghua Liu, Asim Smailagic, Christos Faloutsos
Abstract
Given time-series data such as electrocardiogram (ECG) readings, or motion capture data, how can we succintly summarize the data in a way that robustly identifies patterns that appear repeatedly? How can we then use such a summary to identify anomalies such as abnormal heartbeats, and also forecast future values of the time series? Our main idea is a vocabulary-based approach, which automatically learns a set of common patterns, or 'beat patterns,' which are used as building blocks to describe the time series in an intuitive and interpretable way. Our summarization algorithm,
BeatLex
(
Beat
Lex
icons for Summarization) is: (1) fast and online, requiring
linear
time in the data size and
bounded
memory; (2) effective, outperforming competing algorithms in labelling accuracy by
\(5.3 \)
times, and forecasting accuracy by
\(1.8 \)
times; (3) principled and parameter-free, as it is based on the Minimum Description Length principle of summarizing the data by compressing it using as few bits as possible, and automatically tunes all its parameters; (4) general: it applies to any domain of time series data, and can make use of multidimensional (i.e. coevolving) time series.