21.01.2016 | Ausgabe 9-10/2016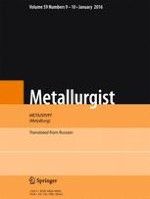 Behavior of Alkalis in Blast Furnaces
Zeitschrift:
Autoren:

V. P. Gridasov, G. N. Logachev, S. N. Pishnograev, A. V. Pavlov, V. A. Gostenin, A. V. Chevychelov
Wichtige Hinweise
Translated from Metallurg, No. 9, pp. 28–31, September, 2015.
The Magnitogorsk Metallurgical Combine (MMK) has collected data on the alkali content of the ironore-bearing charge materials for its blast furnaces, coke ash, top dust, and sludge during the course of production operations. The results obtained from determining the alkali contents of the charge materials and smelting products and furnace performance indices in the blast-furnace shop were used to calculate the alkali balance for the period 1997–2011 in order to monitor and evaluate changes in alkali input and output for the shop as a whole. The alkali load for the shop increased from 5.05 in 1998 to 7.61 kg/ton in 2008. Most of the alkalis enter the blast furnaces with the sinter (32–58%), the coke ash (21–33%), and pellets made at the SSGPO (16–37%). The contribution of the other components of the furnace charge is negligible (0.2–1.5% of the load) due to the small amounts of these materials that are used in the charge. A comparative analysis was made of the alkali load on blast furnaces at the MMK, the Severstal combine, and the Novolipetsk combine and the effects of the load (alkali input) on blast-furnace productivity and coke rate were determined. The results made it possible to conclude that each kilogram increase in alkali input increases fuel consumption by 3.2 kg/ton pig iron.