01.06.2011 | Ausgabe 2/2011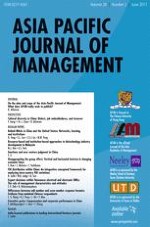 Behind M&As in China and the United States: Networks, learning, and institutions
Zeitschrift:
Autoren:

Haibin Yang, Sunny Li Sun, Zhiang (John) Lin, Mike W. Peng
Wichtige Hinweise
All authors contributed equally to this paper. This research was supported by a research grant at the City University of Hong Kong (7002348), the National Science Foundation (CAREER SES 0552089), and the UTD Provost's Distinguished Professorship. The views expressed are those of the authors and not those of the sponsors. We thank Rae Pinkham for editorial assistance.
Abstract
Few scholars would dispute the argument that mergers and acquisitions (M&As) are different in China and the United States, but we know little about how they differ. This article reports one of the first studies that systematically compares and contrasts how M&As differ in these two countries. While prior research on M&As tends to emphasize economic and financial explanations while treating firms as atomistic actors severed from their institutional and network relations, we develop a new theoretical framework based on relational, behavioral, and institutional perspectives. We not only consider firms as learning actors embedded in network relations, but also compare and contrast their M&A patterns between China and the United States, two distinctive institutional contexts. We find that both a firm's structural hole position and its learning orientation (exploration/exploitation) in alliances have direct and joint impacts on subsequent M&As. Further, such impacts differ across the two countries, due to their institutional disparities.