2017 | Supplement | Buchkapitel
5. Bending Co-operation to the Western Australian Economic Problem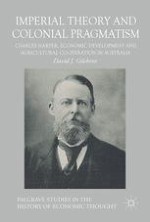 Erstes Kapitel lesen
Autor: David J. Gilchrist
Abstract
The four British co-operative traditions considered in Chap.
2
combined with the international experience of settlement and land alienation discussed in Chap.
3
to indirectly shape the development of agricultural co-operation in Western Australia. The arguments and counter-arguments associated with co-operation were well known in the Antipodes by the 1890s. In fact, the concept of working in concert to earn an appropriate return for all resonated particularly in Western Australian agricultural circles and had done since early settlement. Farmers naturally heard variations of Owen's message that individuals should strive to work together in conditions other than those seen in the Satanic mills (and, of course, many had migrated to escape such mills); of Ludlow's message that it was a Christian's duty to serve one's fellow man; of Mill's message that the labourer may evolve to a higher plane if only given the opportunity to break the master–servant relationship; and of Mitchell's pragmatic message that consumers need not be exploited in the market if they join a consumer co-operative. Once again it is important to emphasise that individuals, even in a frontier environment, do not live in an intellectual and cultural vacuum in which ideas just appear.