2010 | OriginalPaper | Buchkapitel
28. Benefits of Threshold Regression: A Case-Study Comparison with Cox Proportional Hazards Regression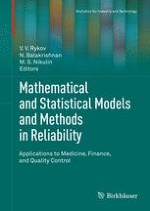 Erstes Kapitel lesen
Autoren: Mei-Ling Ting Lee, G. A. Whitmore, Bernard Rosner
Verlag: Birkhäuser Boston
Abstract
Cox proportional hazards (PH) regression is a well-known model for analyzing survival data and its strengths are widely recognized.
Threshold regression
(TR) is a relatively new methodology but one that is receiving greater attention and being used successfully by researchers in different fields, including biopharmaceutical statistics. In threshold regression, event times are modeled by a stochastic process reaching a boundary threshold. The TR model does not require the proportional hazards assumption. It also can provide more insights into data than the Cox model, even where the PH assumption holds. Thus, threshold regression deserves consideration by investigators and their analysts as a serious alternative to Cox regression. In this article, we demonstrate the benefits of the TR model using a large cohort data set drawn from the Nurses' Health Study (NHS). The TR results for the NHS data set show the anticipated link between lung cancer and smoking for women. The TR model allows this link to be understood with substantial insight and clarity and with a refined attribution of disease progression to particular influences. We compare TR results with those obtained from Cox proportional hazards regression. The adequacies of the TR and Cox models in fitting the data set are examined using a new analytical approach. We also present
Stata
programs to compare the models.