01.04.2015 | Ausgabe 4/2015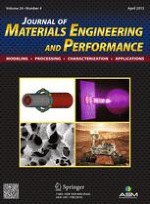 Biaxial Fatigue Crack Growth Behavior in Aluminum Alloy 5083-H116 Under Ambient Laboratory and Saltwater Environments
Zeitschrift:
Autoren:

V. Y. Perel, H. E. Misak, S. Mall, V. K. Jain
Abstract
Crack growth of aluminum alloy 5083 was investigated when subjected to the in-plane biaxial tension-tension fatigue with stress ratio of 0.5 under ambient laboratory and saltwater environments. Cruciform specimens with a center hole, containing a notch and precrack at 45° to the specimen's arms, were tested in a biaxial fatigue test machine. Two biaxiality ratios, λ = 1 and λ = 1.5, were studied. For λ = 1, crack propagated along a straight line collinearly with the precrack, while for λ = 1.5 case, the crack path was curved and non-collinear with the precrack. Uniaxial fatigue tests were also conducted. Crack growth rates were faster under the biaxiality fatigue in comparison to uniaxial fatigue at a given crack driving force (Δ
K
I
or Δ
G
) in both environments. Further, an increase in biaxiality ratio increased the crack growth rate, i.e., faster for λ = 1.5 case than λ = 1 case. Both biaxial fatigue and saltwater environment showed detrimental effects on the fatigue crack growth resistance of 5083, and its combination is highly detrimental when compared to uniaxial fatigue.