2018 | OriginalPaper | Buchkapitel
8. Bifacial Shaping at the TK Acheulean Site (Bed II, Olduvai Gorge, Tanzania): New Excavations 50 Years After Mary Leakey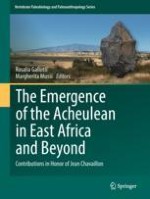 Erstes Kapitel lesen
Autoren: Manuel Santonja, Susana Rubio-Jara, Joaquín Panera, Alfredo Pérez-González, Raquel Rojas-Mendoza, Manuel Domínguez-Rodrigo, Audax Z. P. Mabulla, Enrique Baquedano
Abstract
This paper presents a detailed analysis of the bifacial shaping and the spatial distribution of 85 bifaces recorded in an area of 51.9 m2 on the Lower Floor of the TK site, located alongside the Trench I excavated by M. Leakey in 1963.
The repeated use of shaping schemes and patterns demonstrates that the knappers who produced these tools had a good command of the concept of bifacial reduction. These processes were adapted differently to fit the characteristics of the exploited raw material. Formal similarities observed among the handaxes seem to reflect preconceived formal schemes, i.e., mental templates. The presence of handaxe fragments and preforms shows that they were knapped at the site with the aim of being used right there. This tool assemblage was later abandoned without the site having undergone any major alterations after its formation.
This command of the bifacial shaping concept observed at the TK site, dated to ca. 1.353 ± 0.035 Ma, undermines the validity of M. Leakey's distinction between an early and a middle phase of the Acheulean techno-complex.