01.06.2015 | Symposium: Bulk Metallic Glasses XI | Ausgabe 6/2015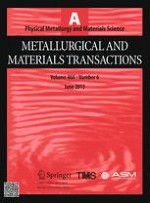 Bio-corrosion and Cytotoxicity Studies on Novel Zr55Co30Ti15 and Cu60Zr20Ti20 Metallic Glasses
Zeitschrift:
Autoren:

S. Vincent, A. Daiwile, S. S. Devi, M. J. Kramer, M. F. Besser, B. S. Murty, Jatin Bhatt
Wichtige Hinweise
Manuscript submitted July 28, 2014.
Abstract
Metallic glasses are a potential and compatible implant candidate for biomedical applications. In the present investigation, a comparative study between novel Zr55Co30Ti15 and Cu60Zr20Ti20 metallic glasses is carried out to evaluate in vitro biocompatibility using simulated body fluids. The bio-corrosion behavior of Zr- and Cu-based metallic glasses in different types of artificial body fluids such as artificial saliva solution, phosphate-buffered saline solution, artificial blood plasma solution, and Hank's balanced saline solution is evaluated using potentiodynamic polarization studies at a constant body temperature of 310.15 K (37 °C). Surface morphology of samples after bio-corrosion experiments was observed by scanning electron microscopy. In vitro cytotoxicity test on glassy alloys were performed using human osteosarcoma cell line as per 10993-5 guidelines from International Organization for Standardization. The comparative study between Zr- and Cu-based glassy alloys provides vital information about the effect of elemental composition on biocompatibility of metallic glasses.