13.01.2018 | Methodologies and Application | Ausgabe 10/2019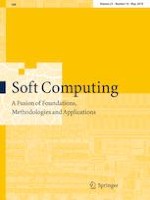 Bio-inspired heuristics for layer thickness optimization in multilayer piezoelectric transducer for broadband structures
Zeitschrift:
Autoren:

Aneela Zameer, Mohsin Majeed, Sikander M. Mirza, Muhammad Asif Zahoor Raja, Asifullah Khan, Nasir M. Mirza
Abstract
Recently, enhancement of sensitivity of multilayered piezoelectric transducer and reduction in electrical impedance has gained importance due to development of stacked active element designs. This work presents mathematical optimization of layer thicknesses for broadband structures using piezo-composite with ceramic and single crystal as active material for underwater SONAR. The proposed technique employs bio-inspired heuristics-based genetic algorithms by invoking one-dimensional thickness model. Initially, optimization has been performed for monolithic materials in the stack for various acoustic media, and then, the results were validated by comparing with the published data. In the proposed scheme, optimization is carried out for two-phase 1–3 piezo-composite stacks with same active elements for better mechanical output and broadband structure while preserving the minima among first three harmonics under
\(-\,3\)
and
\(-\,6\)
dB from the peaks in the frequency spectrum. The results show that the optimized single-crystal-based transducers have higher mechanical output and lower electrical impedance than their counterparts using piezo-ceramic in single- and two-phase materials.
Graphical abstract
×