Tipp
Weitere Kapitel dieses Buchs durch Wischen aufrufen
2013 | OriginalPaper | Buchkapitel
Bioclimatic Design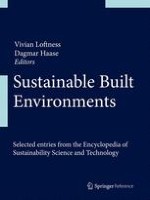 Autor: Donald Watson
Verlag: Springer New York
Without Abstract
Bitte loggen Sie sich ein, um Zugang zu diesem Inhalt zu erhalten
Sie möchten Zugang zu diesem Inhalt erhalten? Dann informieren Sie sich jetzt über unsere Produkte:
1.
Fitch JM, Siple P (eds) (1952) AIA/house beautiful regional climate study. Originally published in AIA bulletin 1949–1952. University Microfiche, Ann Arbor
2.
Olgyay A, Olgyay V (1957) Design with climate. Princeton University Press, Princeton
3.
Givoni B (1976) Man, climate and architecture, 2nd edn. Applied Science, London
4.
Milne M, Givoni B (1979) Architectural design based on climate. In: Watson D (ed) Energy conservation through building design. ARB/McGraw Hill, New York
5.
Arens E, Gonzales R, Berglund L (1986) Thermal comfort under an extended range of environmental conditions. ASHRAE Trans, vol 92, part 1. ASHRAE, Atlanta
6.
Watson D, Harrington K (1979) Research on climatic design for home builders. In: Franta G (ed) Proceedings of the 4th national passive solar conference. ASES Publications, Boulder
10.
Arens EA et al (1985) SITECLIMATE: a program to create hourly site-specific weather data. Proceedings, ASHRAE/DOE/BTECC conference on thermal performance of the exterior envelopes of buildings III, Clearwater Beach, pp 91–108.
http://​escholarship.​org/​uc/​item/​3j62w3nm
. Accessed 10 June 2011
12.
Milne M, Li Y-H (1994) Climate consultant 2.0: a new design tool for visualizing climate. In: Proceedings of the 1994 ACSA architectural technology conference, Association of Collegiate Schools of Architecture Publications, Washington, DC
13.
Watson D, Labs K (1983) Climatic building design. McGraw-Hill, New York (Revised 1993)
14.
Watson D (1988) Solar mortgage subsidy program occupant survey. Energy Division, Office of Policy and Management, State of Connecticut
15.
Watson D (1982) The energy within the space within. Progress Archit, July, pp 97–102
16.
Watson D (1989) Bioclimatic design research. In: Boer KW (ed) Advances in solar energy: annual review of research and development, vol 5. American Solar Energy Society, Boulder
17.
Burt Hill Kosar Rittelmann Associates/Min Kantrowitz Associates (1987) Commercial building design: integrating climate, comfort, and cost. Van Nostrand Reinhold, New York
18.
Lam WMC (1986) Sunlighting as formgiver for architecture. Van Nostrand Reinhold, New York
20.
Knowles RL (2006) Ritual houses: drawing on nature's rhythms for architecture and urban design. Island Press, Washington, DC. Also: Knowles RL (2003) The solar envelope. In: Watson D (ed) (2003) Time-saver standards for urban design. McGraw-Hill, New York
21.
Hemiddi A (1991) Measurements of surface and air temperatures over sites with different land treatments. In: Proceedings PLEA 1991 Conference. Seville, Spain; Also: Givoni B (2003) Urban design and climate. In: D. Watson (ed) Time-saver standards for urban design. McGraw-Hill, New York
22.
Spirn AW (2003) Better air quality at street level: strategies of urban design. Watson D (ed) Time-Saver standards for urban design. McGraw-Hill, New York; Also: Moudon AV (1987) Public streets for public use. Van Nostrand Reinhold, New York
23.
Watson D, Adams M (2010) Design for flooding and resilience to climate change. Wiley, New York
Brown GZ, DeKay M (2001) Sun, wind & light: architectural design strategies. Wiley, New York
Fitch JM, Branch DP (1960) Primitive architecture and climate. Scientific American 219(3):190–202
Givoni B (1998) Climate considerations in building and urban design. Van Nostrand Reinhold, New York
Jones DL (1998) Architecture and the environment: contemporary green buildings. Laurence King, London
Koenigsberger OH, Ingersoll TG, Mayhew A, Szokolay SV (1974) Manual of tropical housing and building. Longman, New York
Kwok AG, Grondzik WT (2007) The green studio handbook: environmental strategies for schematic design. Elsevier, New York
Landsburg HE (1972) The assessment of human bioclimate. Technical note 123, World Meteorological Organization, Geneva, (UNIPUB) 36 pp
Loftness V (1977) Identifying climate design regions and assessing climatic impact on residential building design. Technical paper no. 1, AIA Research Corporation, Washington, DC, 25 pp
McDaniel CN, Magic T (2011) Creating a positive energy home. Sigel Press, Medina
Szokolay SV (2008) Introduction to architectural science: the basis of sustainable design. Elsevier, Amsterdam
United Nations Environmental Programme (UNEP) (2007) Buildings and climate change: status, challenges and opportunities. ISBN: 978-92-807-2795-1
Titel

Bioclimatic Design bioclimatic design

DOI

https://doi.org/10.1007/978-1-4614-5828-9_225

Autor:

Donald Watson


Verlag

Springer New York

Sequenznummer

1