2016 | OriginalPaper | Buchkapitel
Biocognitive Evolution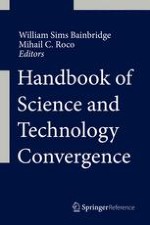 Erstes Kapitel lesen
Autor: Jonathan C. Peck
Abstract
Scientific cultures are shifting, and we can anticipate the results based on a pattern of developmental stages characterized in psychology. The major shift will be from competitive achievement of individuals in disciplines to collaborative success in networks of interdisciplinary teams linked with advanced intelligence agents. Such shifts occur by transcending while including previous cultures. So individual competition and distinct fields of study will continue as a facet while the mainstream of scientific culture shifts to include:
The embrace of the complex over the simple

New theory that encompasses worldviews from East and West

Attention to personality as a facet of team success

Tools that reshape human interaction
The convergence of all these factors has begun. The major scientific questions of our day have already gathered answers from large networks using computers to integrate the work of scientists around the world. This happened in the sequencing of genomes and the creation of climate models to learn about global warming. As the twenty-first century problems emerge for a population growing from 7 billion to perhaps 10 billion people, surprises will appear as crises. Solutions will need to come quickly, and networks of people using knowledge tools are likely to bring the fastest, best answers by working across the many domains that have divided science over centuries into distinct fields and disciplines.