08.11.2016 | Original Article | Ausgabe 2/2017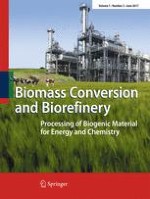 Bioconversion of soybean and rice hull hydrolysates into ethanol and xylitol by furaldehyde-tolerant strains of
Saccharomyces cerevisiae

,

Wickerhamomyces anomalus

, and their cofermentations
Zeitschrift:
Autoren:

Nicole Teixeira Sehnem, Lilian Raquel Hickert, Fernanda da Cunha-Pereira, Marcos Antonio de Morais Jr, Marco Antônio Záchia Ayub
Abstract
The aims of this work were to evaluate the ability of furaldehyde-tolerant yeast strains
Saccharomyces cerevisiae
P6H9 and
Wickerhamomyces anomalus
WA-HF5.5 and their cofermentations and to convert soybean and rice hull hydrolysates into ethanol and xylitol. In batch shaker cultures, the strains showed the ability to tolerate high osmotic pressure (1918 mOsmkg
−1
), completely depleting furaldehyde in the first 12 h of cultivations, while converting the hydrolysate sugars into ethanol. Highest ethanol yields of 0.37 g g
−1
and productivity of 0.31 g L
−1
h
−1
were obtained in the cofermentation using rice hull hydrolysate as substrate. The concentration of sugars in soybean hull hydrolysate proved to be inadequate as substrate for the cultivation of these strains, showing a low ethanol productivity of 0.08 g L
−1
h
−1
. Bioreactor cultivations of
S. cerevisiae
on rice hull hydrolysate under anaerobiosis showed a relatively high ethanol productivity of 6.7 g L
−1
h
−1
, whereas the bioreactor cofermentation produced xylitol to yields of 0.86 g g
−1
under conditions of oxygen limitation.