01.01.2014 | Original Paper | Ausgabe 1/2014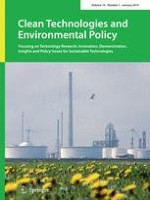 Biodegradation of phenol by mixed microbial culture: an eco-friendly approach for the pollution reduction
Zeitschrift:
Autoren:

T. Senthilvelan, J. Kanagaraj, Rames C. Panda, A. B. Mandal
Abstract
Studies on the degradation of phenol by isolated strains of
Pseudomonas putida
Tan-1 and
Staphylococcus aureus
Tan-2 were carried out under single as well as mixed culture. The optimum growth of these organisms was observed at pH 6, temperature 35 °C, and duration of 35 h. The biodegradation rates were found to be 94.2 and 88.1 % for the phenol concentrations of 600 and 800 mg/L, respectively. The gas chromatographic analyses did not show phenol peak in the experimental sample after degradation. Mass spectral analyses showed mass/charged ions (
m
/
z
) values of 112.40, 118.80, 137.73, 145.2, and 158.13 corresponding to the presence of catechol, succinate,
cis
–
cis
muconate, ketoadipate enol lactone, and
β
-ketoadipate while the absence of
m
/
z
at 94.40 in the treated sample confirms the complete transformation of phenol into other products. Disappearance of the band at 3,045 cm
−1
corresponding to phenol in the Fourier transform-infra red spectrum lends additional support for the degradation of phenol. The spectrum also revealed bands at 1593, 1499, and 1472 cm
−1
, which indicated a shift from aromatic to aliphatic region in the experimental sample. The chemical oxygen demand reduction was found to be 91.3 % for the mixed culture. The overall results showed that the mixed culture was better than the individual culture for degrading phenol. The present study will help in commercial exploitation of the method.