2019 | OriginalPaper | Buchkapitel
6. Biodegradation of Polycyclic Aromatic Hydrocarbons (PAHs): A Sustainable Approach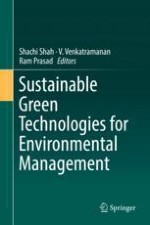 Erstes Kapitel lesen
Autoren: Shaili Srivastava, Madan Kumar
Verlag: Springer Singapore
Abstract
Polycyclic aromatic hydrocarbons (PAHs) are aromatic hydrocarbons having two or more fused benzene rings. PAH are found in environment from natural as well as anthropogenic sources. They are widely distributed environmental contaminants that have detrimental biological effects, including toxicity, mutagenicity, and carcinogenicity. PAHs are thermodynamically more stable and resistant to microbial degradation due to their hydrophobic nature and their stabilization due to presence of multiple benzene rings and low aqueous solubility. Despite these properties, a variety of bacterial, fungal and algal species are reported for biodegradation. Most of studies involved in PAH microbial degradation is based on enzymes involved in PAH metabolism and their mineralization. Several bacteria have been found to degrade PAH such as
Sphingomonas
sp.,
Psedomonas
sp.,
Alcaligens eutrophus, Burkhelderia
sp.
Mycobacterium, Rhodococcus, Nocardioides, Mycobacterium, Rhodococcus, Nocardioides
and
Novosphingobium,
etc. There are several biochemical pathways and gene reported which are responsible for bacterial degradation of PAHs. Many fungi metabolize polycyclic aromatic hydrocarbons with enzymes that include lignin peroxidase, manganese peroxidase, laccase, cytochrome P450, and epoxide hydrolase. The products include
trans
-dihydrodiols, phenols, quinones, dihydrodiol epoxides, and tetraols, which may be conjugated to form glucuronides, glucosides, xylosides, and sulfates. The fungal and bacterial metabolites generally are less toxic than the parent hydrocarbons. Cultures of fungi that degrade polycyclic aromatic hydrocarbons may be useful for bioremediation of contaminated soils, sediments, and waters. Microalgae and eukaryotic algae sp. have been also reported for their bioaccumulation, biotransformation and degradation capability of PAH. While mechanism of biodegradation pathways from algae are not very specific and vary from species to species. In case of algal biodegradation of PAH it works more precisely in combination with bacterial co-culture.