01.01.2013 | ORIGINAL ARTICLE | Ausgabe 1/2013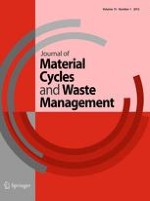 Bioethanol production from enzymatically saccharified lawn clippings from a golf course
Zeitschrift:
Autoren:

Kazuhiro Takamizawa, Eri Ishikawa, Kohei Nakamura, Takafumi Futamura
Abstract
The utilization of bioethanol is being focused on as a fuel alternative to oil and or natural gas. Bioethanol production from cellulosic plant residues is one of the solutions proposed for the problems caused by usage of food crops that are also vital for human consumption, such as sugar cane and corn, as a source of bioethanol. However, to utilize these new sources for bioethanol production, conditions for saccharification in each different material have not been optimized. In this study, we reported some optimum conditions for the saccharification of Korean lawn grass (KL) and bent grass (BG) using acremonium cellulase and endoglucanase as saccharifying enzymes for ethanol fermentation. With respect to saccharification of KL and BG, 0.19 and 0.18 g of
d
-glucose per g-substrate at maximum were produced, respectively. Comminution with a ball mill was found to be effective in the saccharification of KL, while ball-milled BG showed no significant improvement in saccharification. Being incorporated with 99 % of
d
-glucose consumption, saccharified KL was incubated for 3 days with
Saccharomyces cerevisiae
and
Zymomonas mobilis
, respectively, and each mixture fermented to ethanol yielding approximately 100 % of theoretical values from
d
-glucose consumption, respectively.